Why Health and Fitness Are Important for Elderly Care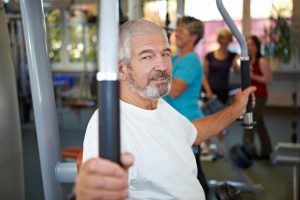 When looking for the best elderly care in Fort Mill, SC, you need to be sure that you are investing in something comprehensive. As with any stage in life, those who are elderly require a balance of different opportunities and services in order to extend their life and elevate their well-being. At Watercrest Senior Living, we've found that health and fitness programs are some of the most powerful tools for increasing not only physical, but mental strength in all senior citizens.
Based on their conditions and values, there are a variety of fitness-based programs available at Watercrest for your elderly loved one to enjoy. We've proven that by participating in these practices, they have seen major improvements in their health across the board.
Tai-Chi and Balancing Exercises
We offer a variety of tai-chi, yoga, and balancing fitness programs for any and all interested elders. These programs strengthen the body's core and stretch the limbs, bringing a greater sense of balance to their body. It also teaches individuals to focus on relaxing breathing techniques, developing a stronger sense of focus and poise. Plus, it's a great opportunity to socialize with other community members!
Cardiovascular Endurance Training
For those who are looking to get even more physical exercise, we offer cardio fitness courses to help encourage endurance and build inner strength. These classes are also wonderful for heart health and help seniors stay active and on the move several times per week.
Physical and Occupational Therapy
If your elderly loved one is in a wheelchair or needs additional assistance with eating, vision, or energy conservation, we have professional physical and occupational therapy services on-site. We can help them improve their coordination and teach them new management and coping habits to better deal with their ailments. This includes help with hygiene, walking, continence management, balancing, and more. Speech therapy is also available for those who are having trouble communicating due to an impediment or memory loss.
Invest in Great Health Benefits for Your Loved One Today!
At Watercrest Senior Living, we highly encourage participation in a variety of physical and health-based fitness opportunities. We have seen major improvements in health and social belonging, increasing their lifespan and giving them more enjoyment in life. To learn more about our services, you can check us out online or give us a call at (772) 539-4560 to speak with a friendly representative.