Advice for Teaching Children's Yoga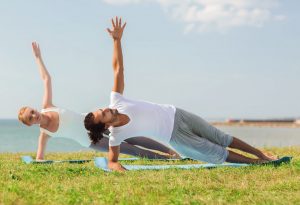 Teaching children's yoga isn't the same as teaching yoga for adults. It's more rewarding, fun and yet quite a bit challenging at the same time because face it, children are different than their parents. With that in mind, read on for advice to follow when you are a children's yoga teacher just starting out.
Make Sure Your Lesson Plan Is Flexible
Unlike the adults you may have taught yoga to in the past, children don't file into class quietly and ready to learn, which means your well-thought out plan for class may not go as you expected. The key is not to get upset and to ensure your lesson plan is flexible, especially if you are teaching a young children's yoga class. Just take a deep breath, have a plan in mind and be willing to change it if the situation warrants. It's key to remember you are there to give the kids what they need, not to execute your perfect lesson plan from the night before.
Remember to Make Yoga Fun
As a child, the best way to learn is by having fun doing it. Never forget though you are there to help the children, if you don't make yoga fun, you aren't going to help them much at all. You want the children to want to come to yoga class so smile, laugh and have fun with what you're teaching. The last thing you want is the kids groaning as they make their way into your classroom because it's too much like work. Fun for all is the key.
For more information on training to teach children's yoga, contact the professionals or visit this website for help.